About Best Catch Seattle
We get fish only from Washington fishermen who use sustainable methods. We then whisk the fresh catch into Seattle, usually a day after it was caught!
You can have this fish delivered to your neighborhood with our community supported fish-share: Bestcatch Seattle. It works just like a community supported farm – you and others in your neighborhood invest in a certain amount of "shares" and then you pick up your "dividend" or portion of fish each week from a centrally located pickup spot.
Location Offerings

Community Supported Fishery/Seafood Box
Dock Pick-up
Fishermen/Farmers Market
Purchasing Options


One-time Purchase
Subscription
Delivery Options


In-Person Pick-Up
Local Delivery
Shipping Available
Ownership


Cooperative
Female
Fishing-Family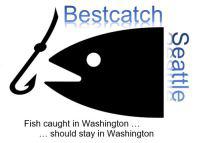 Species Offered
Salmon, Tuna, Halibut, Black Cod, Rockfish
10
Locations
5
Number of Fisherman Sourced From
20
Years in Business
The value statements outlined below aim to create a higher level of accountability and trust, both internally within the network and externally to the public, in order to advance the movement of Community Supported Fisheries (CSF) and like-minded community-based seafood operations.
Community-Based Fisheries
Fair Access
Fair Price
Eating with the Ecosystem
Traceable and Simple Supply Chains
Catch and Handle with Honor
Community and Ecosystem Based Fisheries Management
Honoring the Ocean
Creativity and Collaboration
We support small scale family fishermen using line-caught techniques. These fishermen catch a fraction of the fish that Alaskan fishermen catch. Our fishermen are under tight supervision and quotas to ensure fish stock sustainability. While we also follow the Monterey Bay Aquarium seafood watch program, local fisheries have their own intricacies and nuances, so we take it one step further and thoroughly investigate the sustainability of each species we will bring you, so YOU don't have to. The day before each delivery we will tell you where the fish was caught, when it was caught, with what method and the sustainability profile of that particular species. That's Transparency with a capital "T"!